DRY IN SQUAW VALLEY
(For Ms Lucille)
What am I doing here?
I'm not a poet. Using words
to describe what I see is just
a trick because I can't paint
Imagine a circle of real poets
each holding a bouquet of words
I sit beside them sand in my lap
14 and without my math homework
Perhaps my poem is in the refrigerator
wrapped around a ham sandwich
I eat the sandwich, hope the poem
will reveal herself. She jumps to the juice
to the cookies, laughs as I sit full, empty handed
I look for my poem in other people's poems
between notes of jazz on the radio
Out the back door I spot her disguised as
a black bear shambling under the cloudless sky
her thick fur pushing through tough dry grasses
Surrounded by mountains, my wily poem goes
searching for ocean
I squint into bright sunshine catch sight of the poem
on horseback
making her way up past the pines. Waving a white Stetson
she disappears over the top. Her song drifts softly
down "Happy trails to youuuu, 'Til we meet aaaah-gain."

from
Postcards from Cave Canem


Naked against the moon's fingers
rolling on the floor in the sheets
licking the sweat off my upper lip the cool rain
off the window sill Twisting my hair into knots
eating only sunshine and the songs of birds
Who heard my cries through the heavy oak door
while 15 poems had their way with me?

Sweetie,
won't be home this week
will call soon
Love, Toni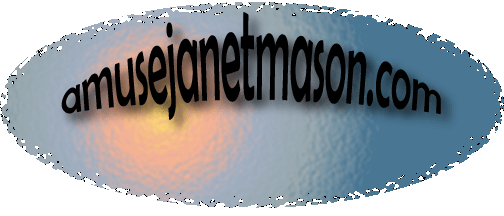 Salvation
The woman w/maggots in her legs
dozes in an over-stuffed chair
Flies orbit her head, blacken the walls,
make love to the soft holes in her body.

She whispers to the pipers who call her Granny,
bring her potato chips or warm ginger ale then
curl into the room's dark corners.
Their match flames reflect in her dull eyes
Sulfur mixes with the smell of garbage.

The women w/maggots in her legs
never changes her clothes.
Her socks writhe against her ankles
Her shoes appear to be full of rice.

She dreams of sheets boiled white,
sunshine through clear window panes.
The tickling in her body is the touch of God,
the buzzing, the wings of angels.