Venus of Chalk
a novel by Susan Stinson
This commentary was aired on This Way Out, a worldwide lesbian and gay radio syndicate based in Los Angeles.
When I read a book I want it to take me somewhere. Needless to say, perhaps, I do not think that being transported by the turn of a page is too much to ask for.
Venus of Chalk, a novel by Susan Stinson (published by Firebrand Books) took me there. Firebrand, a long standing feminist press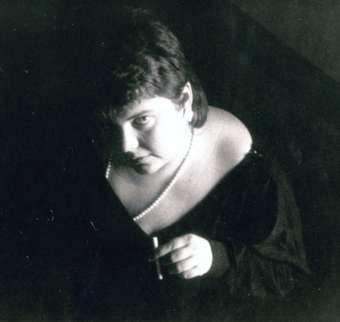 that closed its doors for a few years and now, thankfully, has been revived, is offering new titles as well as previously existing ones.
Venus of Chalk is Stinson's third novel and with it she brings us the story of Carline whose life becomes upended with a single, but cumulative, incident of hate-teenagers on a corner hurling epithets and lit cigarettes at her, the object of their derision. Carline is a fat woman, who in a thin-obsessed society, stands out like a sore thumb. The cigarettes, in fact, do not burn her but she, in turn, goes home to burn herself. Shocked at the fact that this self hate has, after many years, surfaced so strongly, Carline puts her life on hold-her job and her long time lover-and takes off on a bus ride across the country from her chosen home in New England to visit an aunt who lives in the small town of Chalk, Texas where Carline grew up.
Her journey is by no means a smooth one, and during the course of it she must face the complexities of her fears, both her abilities to trust and to be someone who can earn the trust of others. Carline initially chose her destination of Chalk, Texas, in a desperate move to console her grieving aunt. But ultimately this journey is not so much about helping someone else as it is a pilgrimage to find the complete and whole sense of herself that Carline describes in the beginning of the book when talking about her lover, Lil:

I would fill a plastic pitcher with water and gently lift her breasts and belly to rinse underneath. Lately, I soaped each beloved fold with a bar shaped like the Venus of Willendorf. Scented with lemongrass, the soap was all sumptuous torso; the head dissolved against Lil's skin early on. She had brought a few bars back from the women's festival in Michigan one year, along with a ceramic Venus of Willendorf ashtray with a hollow where her belly should be. Lil told me that the original sculpture was the oldest known representation of a human figure, more than twenty thousand years old. The echoes of our bodies, Lil's and mine, in the fat goddess theme made me laugh. We kept the ashtray on the table next to the salt and pepper shakers.
Venus of Chalk is a novel that anyone can relate to, despite the fact that the book is sometimes shelved in the "size acceptance section" of bookstores. Susan Stinson uses her exceptional literary vision to take the readers along on a wild bus ride of our own, all the while facing ourselves, and returning, renewed, to our extraordinary lives.
Janet Mason is an award-winning writer. Her work is published widely including in Techno-Dyke and the Gay and Lesbian Review from Harvard University Press. Her radio commentary is aired by the syndicate This Way Out, throughout the U.S. and in 22 countries abroad. Janet may be reached at Janetmason3@msn.com