Tea Leaves: a memoir of mothers and daughters by Janet Mason (Bella Books April 2012) is now available -- click here for more info
"There is something here for everyone who has ever loved someone else or plans to. I highly recommend "Tea Leaves" just because it is so real and so beautifully written."–Reviews by Amos Lassen
read Janet Mason's latest piece in The Huffington Post --Chick-fil-A: What Would Gandhi Do If He Were Gay?


Sexuality and Socialism: History, Politics, and Theory of LGBT Liberation
by Janet Mason
(click here for audio)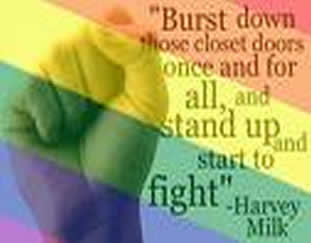 Hitching To Nirvana, a novel of midife and adolescence by Janet Mason is now available on-line and from bookstores

Available in paperback and in e-book
It's said that the personal is political and I find that the opposite – that the political is personal – is true also, perhaps more so.  Consider, for example, the epithet Commie Pinko Queer.   When the term originated and was hurled at artists and Progressives of all stripes during the McCarthy era, it certainly was personal.  The Hollywood blacklisting by the House Un-American Activities Committee led to the ruin of legions.

More than half a century later, the connotations of the word "Pink" – now associated with post (haste) feminist stardom – are being hurled again in the term "socialist." 
Many decades removed from the McCarthy witch hunt for Commie Pinko Queers – I've joked that two out of three isn't bad.  Now, many of us are thinking, "What's so bad about socialism?"
Let's claim it.
I came to this thought after reading Sherry Wolf's Sexuality and Socialism: History, Politics, and Theory of LGBT Liberation.

As Wolf points out, early champions of the LGBT Liberation movement were involved in the struggle of workplace organizing as well as LGBT rights. "Harry Hay, the founder of the first U.S. gay organization, the Mattachine Society, got his start as a union organizer in the 1930s and 1940s in the New York Department Store Workers Union with the International Workers of the Word."

And Harvey Milk, elected San Francisco supervisor in 1977, built a coalition of labor and gay activism in working with the labor unions by organizing a boycott of Coors Beer in the gay bars.  In return, the labor unions supported activism against the 1978 Briggs Initiative that threatened to ban gays and lesbians and anyone who supported gay rights from working in California's public schools.
Sexuality and Socialism serves up quite a bit of LGBT history as well as political analysis and theory.   Wolf touches on mid 19th Century accounts of women passing as men such as Bill in Missouri, the secretary of the International Brotherhood of Boilermakers, of whom it was said, "She drank…she swore, she courted girls, she worked hard as her fellows, she  fished and camped, she even chewed tobacco."

Wolf also points out that even though gays and Communist Party members were persecuted alike under McCarthy  in the 1950s, that the Communist Party remained steadfast in its hostility toward homosexuality, denouncing it as a "bourgeois deviation."  She also points out that the word "socialism" is often used in vain, in various contexts – from governments to splinter groups – to describe systems of thinking and ruling that do not, in fact, support liberation.

Ultimately, Sexuality and Socialism led this reader to the conclusion that given that theory is almost always separate from practice, then all political systems are flawed.
However, when words are used as epithets – whether it's Socialist or Commie or Pinko or Queer – they are intended to create a climate of fear.  And only when we stand strong and together, will this fear lose its power.