The Mystery of Blue Sunday
(or, My Life with Bagels)
by Sandy Friedlander, 2006
Throughout most of my adult life, Sunday has been one of the "downer" days of my week -- much like the ever-consistent "Blue Monday", but harder to understand.
During both my school and working days, Monday represented the end of the magic weekend where play, leisure, and above all, sleeping in, were at the very least, a choice. But on Monday, that was that for another 5 or six days. It was "back to the grind", whatever that grind may have been. Most of us have been there.

Now that I have been pressed into "early retirement" by issues of health and disability, ironically enough, Mondays have become another shade of blue, still a downer because Monday now represents the day that I don't get to go back to work, and don't get to go back to school -- and everybody else does. Being left out is nearly always a bummer. So is being made marginal. It's all about freedom of choice, I guess.

But why the Blue Sunday? Sunday evening might be considered the gateway to Monday's blues, which doesn't explain why my particular Sunday blues usually commence first thing Sunday morning and go on all day. My Sunday blues are a mystery that I've been puzzling at for years. This week, over a bagel and drip coffee, I may have bit into the answer.

I was raised in a large Jewish neighborhood in Pittsburgh PA, under the roof with an Orthodox grandmother from the Old World, in this case, pre-Soviet Lithuania. Sunday mornings, my community was waking up from its Saturday Sabbaths. Multiple Jewish bakeries were shaking off their day of rest to greet long lines of customers that eagerly awaited their bags of warm bagels and poppy seed rolls, fresh out of the oven.

In those days, no self-respecting Jewish bakery would have produced the cheddar cheese- and olive-covered confection that jogged my memory this week. Blueberry or pesto-flavored bagels were, back then, unheard of and probably undreamed of. At most, a bagel would be decorated with sesame or poppy seeds or onions. Two kinds of dough: Water- or egg-based. That was it.
Back in our warm kitchen at home, as in the kitchens of so many other Jewish homes, Sunday morning was a feast for the palate and eye: The whole family, Mother, Father, Grandmother and me, gathered jovially around the kitchen table, passing plates piled high with bagels and poppy seed rolls, platters full of vivid lox slices and platters of the fixins' -- cream cheese, butter, green onions, white onions, cucumbers, tomatoes, your choice.

I don't know much of a tradition it was in other homes, but in my childhood, part of the Friedlander Sunday Morning Festivities consisted of my only weekly cup of coffee. In reality, this special treat was a cup of highly sweetened milk, prepared by my mother's or grandmother's hand with only a tablespoon or two of actual coffee -- just enough to give the white milk a bit of a tan. To my child's palate, it was sublimely delicious.

To a young child, those Sundays were even more special than the Saturdays which preceded them, Sabbaths that Orthodox Jews make a day-long fuss over, the size of which dwarfs almost anybody else's Sabbath, or even some annual holidays.
As far as my inner child is concerned, nothing as enchanted as those lox-and-bagel Sundays, replete with sweet, exotic and otherwise forbidden "coffee", has ever happened to Sunday since then. So today, I mourn those bygone Sundays. Now that I finally know the source of my long-standing Sunday Blues, will I be able to find a cure, or at least a comforting replacement? Well, there are those Sunday phone calls home. And besides -- If knowledge is power, then there is hope.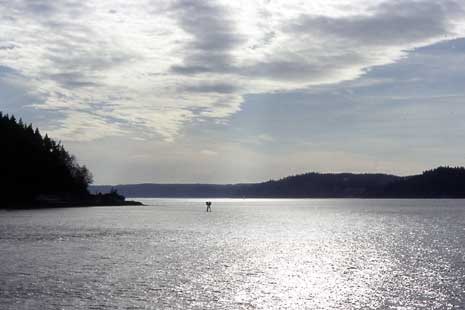 Vashon Island
readings/appearances bio
I was born, raised and college-educated in Pittsburgh PA, spent a life-changing summer as a social services volunteer in London, England, supervising a daycamp for working class children, staffed by volunteers from all over the world. Then, off to Champaign IL for an MSW, mistakenly thinking that Social Work would marry my two majors, Psychology and Sociology. Eventually, this took me to the late, great Byberry Psychiatric Hospital in Philadelphia, where I lasted 4 months before finding my way to freelance writing. I was a founding mother of the Philadelphia Writers' Organization, and before being catapulted into my second life (see below), was modestly active in feminist, civil rights and nonviolent causes.

After moving to Seattle, WA, I worked a variety of jobs, finally ending in paraprofessional work in the public schools, while I continued to write. Unfortunately, this led directly to my second life after I was chemically injured by one too many uses of Kwell shampoo (headlice are an occupational hazard in urban public elementary schools). This soon blossomed into Multiple Chemical Sensitivity, aka Environmental Illness, aka Chemical Hyperreactivity Syndrome, etc., and a move to tiny, lovely, semi-rural Vashon Island.

My second life is about surviving and attempting to heal my health, which has become a fulltime job. When the air is clear of heavy woodsmoke or the occasional pollution drifting in from the mainland, I am very serious about my walks in the country, woods, and beaches. Environmental Illness is a socially isolating condition, and nature has become my best friend. With what remains my brain, I write haiku and other short forms most days, and the very occasional article or longer poem. I am grateful as well for books, tapes and cyberspace.
In Second Grade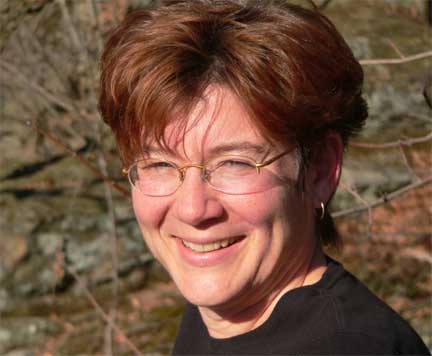 "In Second Grade"
was published in Water~Stone:
Hamline Literary Review, Vol. 3, No. 1, 2000.
I wanted to be a martyr
I studied in secret
my pack of gilt-edged holy cards
St. Alban holding his own chopped-off head
in his hands
young St. Stephen on his knees
being stoned to death
St. Sebastian clutching his breast
pierced by arrows
and my favorite -
St. Catherine stretched on a mill wheel
arms and legs splayed
eyes rolling heavenward
It is an important thing
to teach young children
about suffering
so they will not question
the beloved mother at the sink
who grasps a knife hidden under soapy water
cuts her hands
turns to her child
holding out bloodied palms
crying
now see what you've done to me
---
BIOSKETCH
Kathy Anderson lives in South Jersey. She was awarded
a fellowship from the New Jersey State Council on the Arts and admitted to The Bread Loaf Writers' Conference. Her writing has been published in national magazines, literary journals, and anthologies. Her plays have been produced in Brooklyn, Philadelphia, and Arizona. Incoming, her full-length play, was featured in the International Centre for Women Playwrights Chicago HER-RAH 2007: A Festival of the World's Best Women Playwrights and Their New Plays.