Tea Leaves: a memoir of mothers and daughters by Janet Mason (Bella Books April 2012) is now available -- click here for more info
"There is something here for everyone who has ever loved someone else or plans to. I highly recommend "Tea Leaves" just because it is so real and so beautifully written."–Reviews by Amos Lassen
read Janet Mason's latest piece in The Huffington Post --Chick-fil-A: What Would Gandhi Do If He Were Gay?
amusejanetmason.com ('s) featured writer Richard McMichael
Hitching To Nirvana, a novel of midife and adolescence by Janet Mason is now available on-line and from bookstores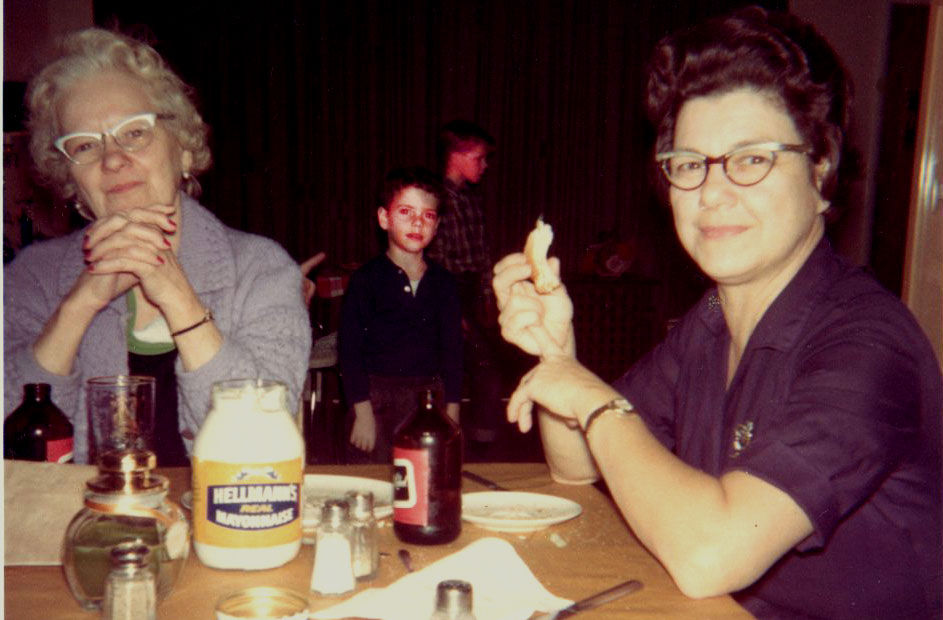 About Me: For starters that's me in the background of this vintage photo. Mother and Granny enjoying a libation right from the bottle. ( Classy Dames ) Look at that big ass Hellmans jar. I am a byproduct of frozen T.V. Dinners and S&H Greenstamps; such humble beginnings sparked a twisted imagination and gave me a morbid sense of humor.

This was a writing exercise from Ms. Mason's class. (I strongly suggest enrollment, classes fill up early so register a.s.a.p.) I want to Thank Her for all she has done. And for her maniacal laugh!!!

This is a true story.
Richard McMichael
---
GRANNY IS STILL WITH US

My Grandmother was the first person to teach me how to pour beer.
"Now tilt the glass, pour slowly, and don't spill any on the goddamn sofa!"
She was also the first adult figure to demonstrate the healing powers of whiskey, freely dispensing hot toddies, combating the first sniffles of November's vintage. She kept the kettle on the stove until the spring's thaw; when it came time for gin and tonics (and filthy jokes) to remedy the humidity.
Granny always had a glow about her, some say it was her personality, but I knew, from very early on, that it was an aura distilled from Bombay Sapphire. I loved the way she held a martini glass, making little crystal whirlpools with the toothpick. (For the longest time I was under the impression olives grew with pimentos stuffed in them.)

Granny was my first open casket viewing; a sobering sight for an eleven year old. My grandmother died in her sleep, about the same time her Doctor told her alcohol was no longer an option; Happy Hour was over for her, time to pay the check. She showed them and checked out early... God Bless you Granny!!!!
My Mother is about the same age now as Granny was then. (She only drinks white zinfandel.) We moved mother from her little apartment, a dwelling she inhabited for close to twenty years to an assisted living facility.
Mother is a pack rat, this little lady held on to every thing that came through her mail box. I found Christmas cards dating back to the Nixon Administration. Tossing hallmark debris away as she turned her back became a game that day. Twenty years of sentimental accumulation mired the moving process and we still had the task of her little bedroom wardrobe to fit in the Budget moving van. The clock as it were was "A tick'n."
Pack it up, get it on the truck!!!
Surprisingly Mother had all her clothes ready, all lined up and separated; two neat rows divided (Like the Gaza Strip.) into summer and winter. Shoes piggybacked, tucked all comfy in their hanging shoe rack.
Progress commenced momentum building, lift, tote, and just get it on the truck!!!
In its barrenness the top shelf marked a milestone to this never ending stow; then what appeared to be a blemish on our horizon. What could this feeble little lady have possible stashed in a crumpled brown paper bag? Labeled with faded red block lettering: the word ACME just barely identifiable.
The step stool protested against my weight as I climbed up for what I pray is the last storage removal trip.
"Pack it up, get it on the truck or toss it!!!"
Poor Mother, the stress of being uprooted after this tenure made for bad decision making. Therefore it was left up to me to monitor what she would soon resettle herself with; no small task from such an extended occupancy.
The Acme bag was somewhat heavy, felling solid, indicating a containment of mass, not feeling like cards and letters. I considered just tossing it; discarding meaningless knick-knacks became a pastime of reckless abandon. With the last ounce of consideration I held the bag open to give its contents a fair trial.
Pack it up just get it on the truck!!
A strange cylindrical tin, too small for the bunt cakes Mother baked on occasion held occupancy in the Acme bag. A small white labeled with a hand written date held my attention. This was cause for interruption in the loading process.
"Mother...hey Mom what this?" I inquired over the commotion.
Looking up from her task of putting handbags inside of handbags she explained.
"Oh that...that's your Grandmother." went back to her chores. "Could you use a letter opener it came from QVC?"
"Mom what the...?"
"Her ashes." The tone in her voice gave a tinge of ...oops forgot. Like Granny was an overdue Library book. Oops, forgot what comes after a viewing.
"Mom what's Granny doing in your closet?"
"Well... she wanted to be buried at sea."
"And that didn't happen because...?"
"Well, I couldn't just throw my Mother in the Ocean. She never learned how to swim; I'm saving her for when I go; find an undertaker that will do a two for one. We can go together."
What a rare opportunity indeed, holding my Grandmother once again. Had I known she was still with us, I could have taken her out and placed her as a centerpiece at holiday tables. Raise a glass of good cheer in her direction.
It's best, when dealing with family members (both living and deceased) to campaign denial. It saves time, and time as it was, was not on my side, nor Granny's, her time was up yet again, and placed in the passenger seat of the truck. The old Acme bag with faded red letters was replaced with one of Mother's smart carry on tote bags. Granny would have appreciated the upgrade.
---
Click here to read Luner Eclipse #9, an essay by Janet Mason inspired by Richard McMichael
---
Click here to read Alexander Renault's anthology Walking Higher: Gay men write about the deaths of their mothers.
---