Audio:
The Last Nude
a novel by Ellis Avery
Riverhead Books; 2012
To read a novel is to enter a world.  When I picked up The Last Nude by Ellis Avery (Riverhead Books), I entered the world of 1920s Paris and all of its romantic intrigue experienced by Rafaela, a young artist's model and dress designer.  Rafaela comes to Paris by way of the Bronx, in New York, where she had been raised by an Italian immigrant mother who when she perceives that her daughter is coming of age sexually sends her off to Italy to marry a family friend.  Rafaela senses there is more to life and escapes to Paris.

I have long been enamored by the lesbians who lived in the Left Bank of Paris in the 1920s, most of whom were American expatriates and women of  some independent means.  The Last Nude paints a more commonplace depiction of what the era was like for women.  Rafaela is not a woman of independent means -- she is an escapee from an arranged marriage. She does what young beautiful women did in that era to make money -- and takes up with an older man on the ship to Italy, becomes his mistress, goes with him to Paris and is handed off to another man.  Eventually she breaks free and becomes an artist's model for a woman, named Tamara, who is from Russia but has become a Parisian.  As the title of the book suggests, Rafaela becomes the artist's subject and in the hours of feeling Tamara's gaze on her, she falls in love.

Rafaela is excited to discover that there are other women like her in Paris --many in fact -- who love other women. As I turned the pages I was delighted to see history coming to life when Rafaela goes into a bookshop - Shakespeare and Company -- and meets Adrienne Monnier and Sylvia Beach who she discovers are in a long-term lesbian marriage.  Avery mentions the book Ulysses and hints at the falling out have with the author, James Joyce.  In other historic references,  Rafaela glimpses the legendary Gertrude Stein at an art opening.

But the reader of The Last Nude also becomes a witness to the emotional carnage of the era.  When Rafaela's relationship with Tamara comes crashing down,  a male friend of Rafaela's says to her, "Rafaela, some of these women are like Gertrude and Alice, and some of them sleep around with other girls like Natalie Barney. Some of them sleep around with men, too, like Djuna Barne's girlfriend..."

There is a fair amount of heterosexual activity in the book.  The not so veiled subtext is that most women of that era, unless they were independently wealthy, felt that they had to pair themselves with men in order to achieve some financial security and social acceptability. When her relationship comes crashing down,  Rafaela confronts Tamara (who is going off to marry a man) who says, "You thought I would marry you? Rafaela, can you make me a baroness?  Can you make me a rich woman?  Can you give me a child?"

The Last Nude by Ellis Avery was chosen by the American Library Association by the   Gay, Lesbian, Bisexual, and Transgender Round Table as the recipient of its 2013 Barbara Gittings Literature Award.  The Last Nude is beautifully written and in addition to addressing some important areas of LGBT history and life, it is a novel that is multilayered, as much about history as it is about lesbian love, and love itself, in its most innocent and duplicitous nature.  Ultimately, The Last Nude reminds us that love and art never dies.
Listen for this commentary on This Way Out, the international LGBT radio syndicate based in Los Angeles.
Audio:
Looking for The Gulf Motel
Richard Blanco
University of Pittsburgh Press; 2012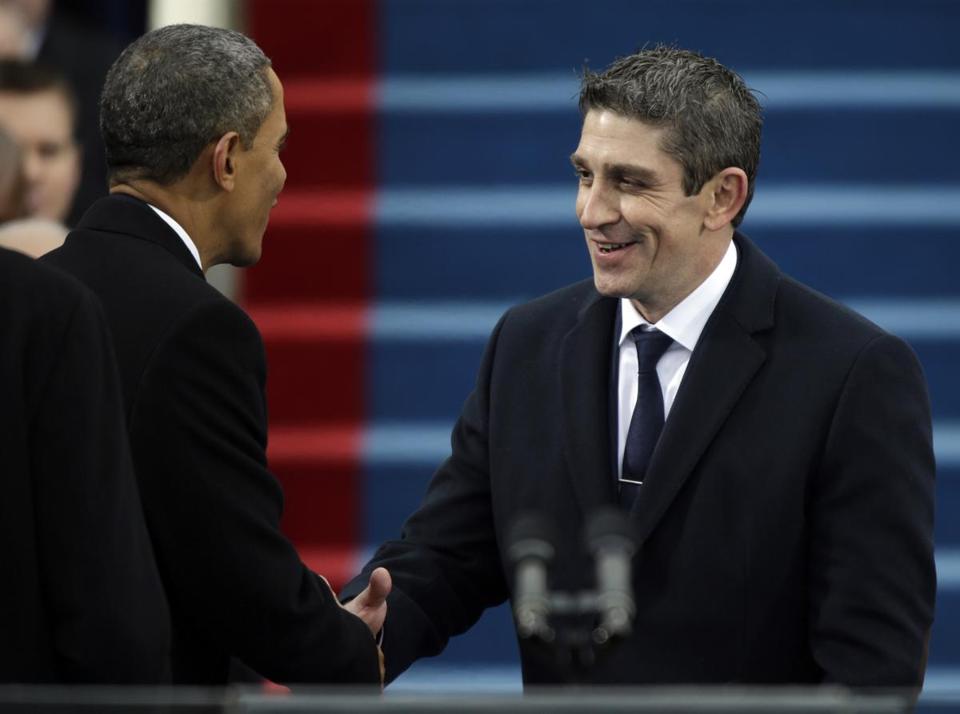 Richard Blanco was the inaugural poet at President Obama's second inauguration. Blanco was the first openly gay poet , the first Latino poet, and the youngest at the age of 44 of the five inaugural poets in American history.

Blanco is the author of three poetry collections, including the most recent, "Looking for The Gulf Motel," published in 2012 by University of Pittsburgh Press.

Blanco writes a poetry of identity that is, in a word, mesmerizing. This is true when he is writing about his Cuban ancestry -- for instance, in "The Name I Wanted" -- "Richard--not Ricardo, not my nicknames:/ El Negrito--Little Black Boy--for my skin/ the color of dry tobacco when I was born,/ or El Gallegito--the Little Galician, because/ that's what Tia Noelia called anyone like me/ born in Spain, not a hundred percent Cuban./ Not Rico, the name Lupe wrote on my desk / branding me as Barry Manilow's Latin lover / in ruffled sleeves dancing conga at the Copa,/ Copa Cabana all of eighth grade..."

His authentic voice is equally as mesmerizing when he is writing about his gay identity such as in "Queer Theory: According to My Grandmother" that reads in part:
Never drink soda with a straw--
milkshakes? Maybe.
Stop eyeing your mother's Avon catalog.
and the men's underwear in those Sears flyers.
I've seen you...
Stay out of her Tupperware parties
and perfume bottles -- don't let her kiss you.
she kisses you much too much.
Avoid hugging men, but if you must,
pat them real hard
on the back, even
if it's your father.
Must you keep that cat? Don't pet him so much.
Why don't you like dogs?
Never play house, even if you're the husband.
Quit hanging with that Henry kid, he's too pale,
and I don't care what you call them
those GI Joes of his
are dolls.
Don't draw rainbows or flowers or sunsets.
I've seen you.
....

Ultimately, when he is not writing about identity, he is writing about love. Perhaps it is one and the same, Cuba, the land where he was conceived, his family, in particular, his mother, father, his aunts, uncles, cousin, and brother and his chosen family, his partner and his new geography, in Maine. Through the poems we learn that Blanco was "a boy who hates being a boy who loves cats and paint by number sets." We learn that he has a secret life, spending afternoons as Endora" (on Bewitched) and when she "disappears in a cloud of smoke," he is "wanting to vanish, too."
We also learn that his butcher father saved his money so that he could buy a new car and drive it with clean hands and that "he read Nietzche and Kant a few months before he died." Blanco starts one poem with the question, "A Cuban like me living in Maine? Well/ what the hell, Mark loves his native snow/ and I don't kind it really. I love icicles/" and ends with "I understand why the mountains here/ are enough, white with snow or green / with palms, mountains are mountains,/ but love is thicker than any country./"

Listen for this commentary on This Way Out, the international LGBT radio syndicate based in Los Angeles.