Tea Leaves: a memoir of mothers and daughters by Janet Mason (Bella Books April 2012) is now available -- click here for more info
"There is something here for everyone who has ever loved someone else or plans to. I highly recommend "Tea Leaves" just because it is so real and so beautifully written."–Reviews by Amos Lassen
read Janet Mason's latest piece in The Huffington Post --Chick-fil-A: What Would Gandhi Do If He Were Gay?
Pride in the Village: Commentary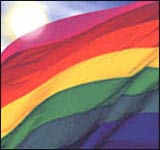 Gay and lesbian rights in NYC and in India
Hitching To Nirvana, a novel of midife and adolescence by Janet Mason is now available on-line and from bookstores
Pride in New York is a tradition for me --one that has become a kind of religion. I stay with friends and make a weekend of it, starting on Saturday afternoon with the Dyke March, then joining the Pride March on Sunday, and often staying until Pride Monday.
My first Pride was the 20th Anniversary of Stonewall and, as hard as is it to believe, we are coming up on the 40th Anniversary. Each year it has gotten better.
The Stonewall Riots -- where butch dykes and drag queens finally fought back, by hurling bottles, against the police force's routine arrests and harassment -- took place in 1969. Since then, society has become more open and tolerant (a gay and lesbian NYPD contingent now marches in the parade) and now each year in the last weekend of June, Pride is best described as one big gay party.
The dykes on bikes, the drag queens, The Lesbian and Gay Big Apple Corps, the dogs with their rainbow collars -- need I go on? I love Pride. And, while it is true that we are always everywhere, it is especially exciting to me to be in New York the weekend when it becomes a queer city -- at least below Central Park on Fifth Avenue and, certainly, in the Village.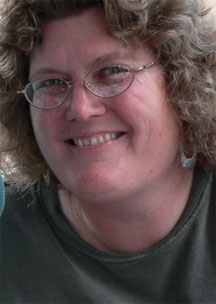 This year on the afternoon of Pride Saturday before the 15th annual Dyke March I arrived in the City on the train and proceeded to walk up Fifth Avenue toward Bryant Park where I had arranged to meet friends. Not wanting to be taken for a drag queen with my big red purse (which I planned to stash in my backpack), I needed to shop for a waist pack.
I stopped into a camera store that had some sporty looking nylon bags in the window. Inside at the glass counter, the East Indian man who was waiting on me was scrutinizing me. I was happy with the bag and looked back at him ready to close the sale.
"So what are you doing for dinner? I'll take you out." The man behind the counter leered. The store was a long rectangular store front - and his friends, the other co-workers -- further down the long corner in the back of the store -- began laughing and gesturing about my size. I am tall, over six feet, and have often been described as Amazonian in stature. Trying to be a good sport, I laughed along with them.
However, the leering clerk persisted with his propositioning. I told him that I was meeting friends for dinner and even though I knew I shouldn't go any further, I did. "You can see us march by later this evening." His friends at the other end of the counter caught on immediately. They were laughing again -- this time at him.
He was looking at me in horror and saying what sounded in his heavily accented voice like "Gaayaa?!" "No!" "You can't be." Then, with his friends looking on, still laughing, he said, "When is the parade?" "It is tomorrow, right?" His friends said something to him in a language that I didn't understand and he said, "Nooo, a lesbian parade!!!??"
I noticed that he didn't have any problem pronouncing the word "lesbian." His colleague in the back rang up my purchase -- and as I turned to leave the leering man was blocking my way in the narrow aisle that I had to walk down to leave. I turned to the men in the back of the store and realized that they were not going to intervene.
As I tried to walk by he grabbed me and said, with a dirty tone in his voice, "You are not a lesbian." His hands on me felt creepy and oppressive. The situation reminded me of a date I went on in college before coming out. So I did the same thing that I did then. I used my size to push him back as I walked by and for good measure I stepped on his foot. Then I was out the front door. Free again on Fifth Avenue.
Later when I would tell the story -- the next day over breakfast with my friends, I tried to turn it into a funny story. I said we should have stormed the store when we went by -- I did look when I marched by, in the contingent in the front with the drummers, dancers, and bell players, and I noticed that even though it was still early that the store had closed.
But my friends weren't buying that it was a funny story. So I became serious. I told them that for a few minutes I felt that I experienced what a lesbian in a small village in India must feel.
Homosexuality is against the law in India. When Deepa Mehta's movie, Fire (which has a lesbian theme), was shown in 1998, several theaters were set on fire by fundamentalists and other theaters subsequently pulled the film. The law that criminalizes homosexuality, section 377 of the Indian Penal Code, is still on the books.
A petition written late last year and signed by a long list of Indian intellectuals and artists states that this law has been used to "systematically persecute, blackmail, arrest and terrorize sexual minorities. It has spawned public intolerance and abuse, forcing tens of millions of gay and bisexual men and women to live in fear and secrecy, at tragic costs to themselves and their families."
But nearly 10 years since Fire, society seems to be opening up -- slowly but, still, change is taking place. Across the country in rural area and villages, there are reports of women marrying each other in religious ceremonies. These marriages are legal-since Indian law does not require a marriage license. Many of these unions end tragically -- with ostracism and sometimes with joint suicides. But there have been several reports of several female couples in rural areas and small towns living openly with family and community validation.
As long as we have Pride and even the hope of Pride -- regardless of how it is expressed -- the village is ours.
click here to read Focus on the Fabulous: Colorado GLBT Voices