Tea Leaves: a memoir of mothers and daughters by Janet Mason (Bella Books April 2012) is now available -- click here for more info
"There is something here for everyone who has ever loved someone else or plans to. I highly recommend "Tea Leaves" just because it is so real and so beautifully written."–Reviews by Amos Lassen
read Janet Mason's latest piece in The Huffington Post --Chick-fil-A: What Would Gandhi Do If He Were Gay?
The Golden Age of Lesbian Erotica 1920 - 1940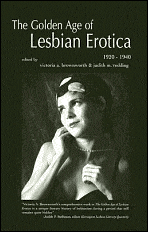 eds: Victoria A. Brownworth & Judith M. Redding
(2007, Magic Carpet Books)
Click here for other reviews -- site map
amusejanetmason.com
Note: This commentary aired on the International Gay and Lesbian radio syndicate, This Way Out.

There's something about an earlier era. Intriguing and romantic. But quite possibly, the most alluring thing is that it simply offers an escape.
I have always been fascinated by the 1920s and 30s Parisian Left Bank which laid claim to such lesbian literati as Gertrude Stein and Natalie Barney (known more for her philandering than for her writing) and the tortured but brilliant Djuna Barnes (readings/appearances of the classic Nightwood).
These women, along with the rest of their circle, were public as lesbians, so much so that they were often referred to, and not always kindly, as Les Amazones by no less a writer than the famed Marcel Proust.
Despite the fact that I am drawn to this era, I still can't help but be a realist. When a friend of mine, a hopeless-and sometimes hapless-romantic, says "Don't you wish you had lived in the 1920s and 30s in the Parisian Left Bank?" I find myself responding, "I don't know. They were a tortured bunch."
Tortured, yes. But, also, intriguing. And this moment and place in history is noted for its female independence - and its subsequent outpouring of lesbian and otherwise experimental body of influential literature that is with us, still, today.
The openness of this era is captured, in part, in the recently published anthology The Golden Age of Lesbian Erotica, 1920 to 1940, edited by Victoria Brownworth and Judith Redding (2007, Magic Carpet Books). The relative openness of the American expatriate writers living in Paris compared to the American writers who stayed in their own country and wrote about their clandestine lesbian lives is a stark contrast.
Consider Renee Vivien-- an expatriate in Paris who was born in London in 1877. Before her untimely death in her early 30s, Renee was captivated by another, earlier era-that of Sappho and the isle of Lesbos. All of Renee's poetry was written to her various loves, and most notably to the scandalous expatriate Texas heiress Natalie Barney who as legend has it, rode naked on horseback through the streets of Paris and hosted one of the most popular literary salons of the era.
Like her poetic idol Sappho, Renee Vivien wrote about lesbian love in all its dimensions. The last four lines of Renee's poem "Lucidity," speak to betrayal as much as it does to desire:
Beneath feigned sweetness a watchful reptile lies.
Dark as the sea without reflecting skies,
The tombs are less impure than your bed. But the worst,
Oh Woman! Only your mouth will quench my thirst!

Gertrude Stein, who with her long-time partner Alice B. Toklas, hosted another infamous literary salon portrayed a different depiction of lesbian love in her epic Lifting Belly which is excerpted in The Golden Age…
Writing to her life mate and muse for nearly half a century, Stein writes:
Lifting belly praises.
And she gives
Health
And fragrance.
And words.
Lifting belly is in bed
And the bed has been made comfortable.
Lifting belly knows this.

The stories in this collection written by American writers who have stayed in their native country are revealing of what lesbians living in this era had to do in order to survive. The stories are as varied as their characters: one woman stays in her small town and is blackmailed into marriage; her lover flees to Greenwhich Village and finds others like her; beaded flappers have convenient "open marriages" that allow for indiscretions; and in one story a woman passing as a man takes a job as a chauffeur for a married, bored, wealthy matron.
These stories met the publishing requirements of that era-and were published in pulps and magazines catering to the market at that time (in fact, were written as lesbian titillation for straight men). However, these magazines and pulp fiction collections were undoubtedly read by lesbians at the time as well-women who may have been desperately searching for the clues to their own survival.
Despite these constraints, these lesbian writers managed to have moments of heart breaking honesty between the lines.
One such passage was written by Dorothy Krivatsky in 1936 in her story entitled
"The Scent of Night." At the point after the bored married wealthy matron gives her chauffeur a copy of Sappho, she commences to explain who Sappho was only to have her chauffeur stop her and say:

"I've been to college," I said softly. "I don't know much Greek but my Latin is still pretty sharp." She looked surprised. "I live like this because I'd rather be a chauffeur or a mechanic than have to be some rich man's wife."
Another telling moment comes at the end of Jazz Babies, written by Diane DeKelb-Rittenhous in the1920s. The narrator, a beaded flapper in an open marriage whose love life is not what it seems, dreams:
"of a time when we may be what we are without laws to condemn us, without the need to hide, without having to pay the price of unfaithfulness, pandering to someone else's lusts, in order to enjoy what it not lust, but love to me."
As I read through these stories from another time -- from the 20s and 30s in a social context which is impossible for anyone queer to romanticize -- I find myself wondering
--Could this really be true? Did this really happen?
In reply, a voice inside me, rooted in reality past and present, fiercely whispers, "I hope so."