Tea Leaves: a memoir of mothers and daughters by Janet Mason (Bella Books April 2012) is now available -- click here for more info
"There is something here for everyone who has ever loved someone else or plans to. I highly recommend "Tea Leaves" just because it is so real and so beautifully written."–Reviews by Amos Lassen
read Janet Mason's latest piece in The Huffington Post --Chick-fil-A: What Would Gandhi Do If He Were Gay?
In response to the bullying of LGBTQ teens:
The Side Door: A Young Adult Novel

by Janet Mason
(click here for audio)
Hitching To Nirvana, a novel of midife and adolescence by Janet Mason is now available from Amazon.com
and bookstores near you!
Click here to read an excerpt...
Like you, I was heartbroken when I read the headlines about the multiple gay teens who were bullied and took their own lives – all in the course of a few weeks.  The stories of these teens who were bullied to death are our stories – whether we came out as teens or later in life. 

I was a teenager in the 1970s and in the working class neighborhood where I grew up, it was not safe to come out.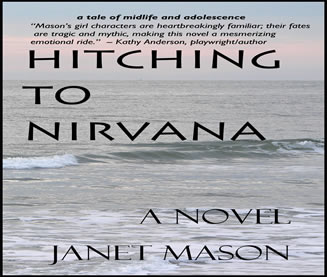 The raw terror of this surfaced a few years after I left home, when a young gay man who lived in my neighborhood – Anthony Milano – was brutally murdered simply for the fact that he was gay.  Like many of my generation, I self-medicated until the coast was clear – until I was in my early twenties, finishing college, and it was safe to come out.  I see now that the risks that I took—drinking and drugging my way through my teen years—were unconscious attempts at suicide.

When I read The Side Door, a young adult novel written by Jan Donley (published by Spinsters Ink), I was transported back into high school – complete with the spin of the combination lock, the coming to terms with who you are or might be and the apprehension in walking the halls between classes.  The Side Door is written as mystery – addressing the themes of gay teen suicide, bullying, and the denial and participation of the adults, school officials and parents alike, in creating a climate of fear and isolation for LGBT and Questioning teens.

There are two main characters:  Mel, who even with her buzz cut and baggy jeans realizes that she is lesbian only after a homophobic epithet is scrawled on her locker and her best friend, Frank, who is already actively gay but not ready to acknowledge it.  Frank, an artist, and Mel, his sidekick, fancy themselves to be superheroes solving the town's five year old mystery of the suicide of a 15-year old gay teen.  The story opens in the graveyard, where Mel and Frank come across the mother of the deceased teen sitting on a bench in the cemetery staring at her son's grave.

Mel and Frank – the dynamic duo – and set themselves to the task of finding out about the life  of the teenager (the facts emerge that he was gay, bullied, and did not receive support from school officials or his mother) who died five years earlier when they were ten.  Along the way to solving the mystery, the dynamic duo also unravel the clues to their own coming of age.  Frank comes out to his parents, is kicked out of his house by his father and comes to live with Mel and her parents who are reluctantly coming to terms with their daughter's sexuality.

What I found perhaps most interesting about The Side Door is that the story could be taking place anywhere – in any nondescript small town – and in any time period. The story is set in a conservative small town – but is near a place called Ohanzee City, a fictional setting with a gay section, complete with a diner, a gay bar, and rainbow flag.  Ohanzee City – Oz-like with its rainbow flag beacon – is also the place of the just started Gay Straight Alliance that Frank and Mel find salvation in toward the end of the book.  The first Gay Straight Alliance was formed in 1988 and this is when the story takes place. 

Tragically, however, the story of a gay teen who takes his or her own life could take place during any time period.  Despite all the Gay Straight Alliances that now exist (4,000 in the U.S. at last count) and the small groundswell of Young Adult books for LGBTQ teens, the problem of the bullying of our LGBTQ young people is still there – and may in fact be rising.
When I look back on my own life – I do so with perspective.  My teen years that I spent in self hatred and self destruction were short in comparison to the span of time I have lived since then – pursuing my dreams, living a life that I would not trade for any other.  I tell my writing students that they are the only ones who can write their own story and that story will always be unique.  If I were speaking to a teen, one who is struggling with his or her sexuality and who is having a hard time, perhaps one who is listening right now, I would say the same thing. 

You are unique and the story of your life that you will look back and tell someday is uniquely yours.  No one else can offer the world the same thing that you will.  The hard times will pass. Believe me they will.  Remember always that your life is worth living.  Hold onto it fiercely.