Tea Leaves: a memoir of mothers and daughters by Janet Mason (Bella Books April 2012) is now available -- click here for more info
"There is something here for everyone who has ever loved someone else or plans to. I highly recommend "Tea Leaves" just because it is so real and so beautifully written."–Reviews by Amos Lassen
read Janet Mason's latest piece in The Huffington Post --Chick-fil-A: What Would Gandhi Do If He Were Gay?
Gertrude Stein and Alice B. Toklas: Love Notes
This commentary was previously aired on This Way Out, a worldwide lesbian and gay radio syndicate based in Los Angeles.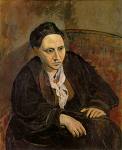 There's something potentially embarrassing about the intimacies of lovers. Think about it. Has your lover every called you by your pet name in public? It was with some trepidation, then, that I looked between the covers of "Baby Precious Always Shines: Selected Love Notes Between Gertrude Stein and Alice B. Toklas."
Edited by Kay Turner and published by the Stonewall imprint of St. Martin's Press, this book brings together for the first time a collection of private notes passed between Gertrude and Alice, the two women who had the distinction of being the most famous lesbian couple of the twentieth century.
Reading the book from cover to cover gave me the sense of looking through a keyhole into the everyday intimacies that made up the marriage of Gertrude and Alice. Gertrude was the husband, the hubby, and Alice was her wifie, her wife, her precious baby. Their partnership lasted for 39 years, from 1907 until Gertrude's death in 1946.
The legal benefits of marriage continue to be denied to lesbians and gay men. But at the same time, this covenant cannot be denied.

In Gertrude Stein's words, "It happened very simply that they were married. They were naturally married."

Gertrude Stein, sometimes referred to as 'The Mother of Modernism,' has often been misunderstood. Her writing, with its use of repetition and unusual word patterns, is not nonsense as some would have us believe or the result of a psychological condition. Stein used language itself to break apart the conventions of literature and thought. In other words, instead of portraying reality, the words are their own reality.

Gertrude and Alice did the same thing in the creation and recreation of their marriage. While some feminists criticized Gertrude and Alice for what they saw as an imitation of role-bound heterosexual unions, others-such as Joan Nestle, defined butch-femme relations as "complex erotic statements, not phony heterosexual replicas."

These love notes from Gertrude and Alice are also complex erotic statements. They are missives of domestic lesbian life and they are also art. As Alice wrote to Gertrude, "notes are a very beautiful form of literature." And Gertrude herself has called some of these notes "poems." They are lesbian love poems that would have been published as such had the world been more accepting. Consider, for instance, the following:

Dear Mrs. / I take my pen in hand to congratulate / you dear Mrs. on the extremely promising / husband you have. He promises everything / and he means it too. He did not not / mean it. He means it. The darling. This / ejaculation refers to Mrs. not to Mr. / as might be erroneously supposed. / Mrs. is the fountain of all good / all beauty and all sweetness. Mrs. / is a graceful fountain and she / plays over Mr. who is certain that / Mrs. is a grateful fountain which / means that it is grateful to / Mr. to have Mrs. play over him. Mr. / is so grateful. Dear Mrs. Lovingly yours / Mr.

This could make a case for the fact that there is little, if anything, that is new-including the debate over female ejaculation and the radical deconstruction of gender. On the other hand, it could also lead us to the fact that these things are always new. Gertrude and Alice were creating and recreating their lesbian relationship before and during the first two world wars. Both Jewish and lesbian, they could have been killed for either of these identities. They were among the lucky ones who went into hiding during World War II and survived. Afterwards, Gertrude wrote to Alice: "I love you so much more/ every war more and more and more and/ more."

There is music, rhythm and depth to this devotion, all of which can be found in this note written by Getrude to Alice:
she is so good to me tears come / into / my eyes when I think how good she / is to / me bless you my sweet, bless you, I / do know / how good my baby is to me so sweet / so loving / so forbearing so wonderful oh bless / you / sweet baby every inch of you sweet / baby.

As a lesbian who is continually recreating my long-term relationship, and myself, I found these never before published intimacies between Gertrude and Alice fascinating. Sometimes the notes were about domestic activities-Gertrude had oiled Alice's scissors or had chopped the wood. More often the notes conveyed endearances and reassurances. Pet names abounded. Gertrude signed most of her notes "Y.D.,' short for "Your Darling." Gertrude's nicknames for Alice included "birdie," "sweetie," her "boss," and her "treasure." In turn, Alice called Gertrude her "husband," her "lovie," "baby boy," "Mr. Cuddlewuddle," and "sweet pinky."

Most of the notes included in this collection were written by Gertrude. But the small number written by Alice are very telling. Alice offers much insight into Gertrude's work, telling her mate that she is "without peer." She offers encouragement, inspiration, and lays down the rules of their relationship in no uncertain terms. In one note, the lines spaced out like a poem, Alice wrote: "Baby boy / You're no toy / But a strong-strong husband / I don't obey" Gertrude, for her part, wrote in a note titled "A Command Poem" that "hubbie" / "loves to be commanded."
This collection can be read as literature in itself and also as insight into Gertrude Stein's great body of work. Ultimately, as the editors note in the introduction, these notes "disclose the intimacies of a deeply committed, very rare, and at the same time, very ordinary marriage."

Near the end of her life, Gertrude Stein wrote, in a libretto about the life of feminist Susan B. Anthony: "What is marriage, is marriage protection or religion, is marriage renunciation or abundance, is marriage a stepping stone or an end. What is marriage."
As I flip thru these notes once passed between Gertrude and Alice, it occurs to me that marriage might at times be a sentence, but it can also be a question.

---
This piece was previously published on Technodyke.com and aired on This Way Out, the Los Angeles-based lesbian and gay radio syndicate that airs across the U.S. and in 22 countries abroad.

---
---
Click here to read a commentary about Anita Cornwell, readings/appearances of the groundbreaking Black Lesbian in White America.
Click here to read commentary on Emily Dickenson