In Church


In my dream, I sat against the altar rail,
my naked haunches spread, as the church
where I knelt as a child bloomed
around me, a place of pleasure where
light fell on cloth of gold, on
incense motes, ancient chants.

There I sat, riding my haunches,
gardenias in a bowl by my hand,
eager to preach a passion sermon and
rub the fragrant petals to myself,
when suddenly, my young mother
stared from the front pew,
a killing prohibition in her eyes.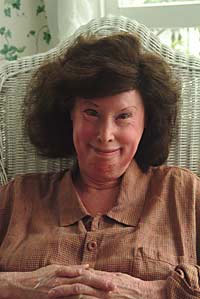 Anne Kaier's poetry has been published in Philadelphia Poets, The Bucks County Writer, The Schuylkill Valley Journal of the Arts, American Writing, Sinister Wisdom, HLFQ and online at the Drexel Online Journal. She participated in The Kenyon Review Writers Workshop and the Philadelphia Fringe Festival and has been a Featured Poet at the Free Library of Philadelphia. She teaches literature and creative writing at The University of Pennsylvania Writer's Conference; Rosemont College; Arcadia University; and Penn State, Abington. You can write to Anne at annekaier@verizon.net

Cameo

A glittering girl, my mother,
diamond rich.
I live in her voracious light.
When she dies, her jewels will come to me,
a daughter's inheritance:
emerald ring, diamond spray,
golden leaf.
What happens to jewels like these?
They will rest in the vault till Victoria
claims them.
They would scorch my hands,
burn my breast.